Fixative
(CC fix LV)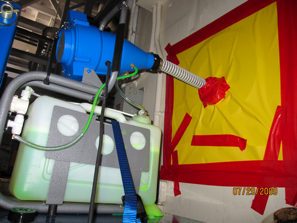 Remote delivery via hot cell manipulator port.
CC Fix Low Viscosity (LV) permanently stabilizes radiological, beryllium, asbestos, and other hazardous contamination.

CC Fix LV is designed to be applied remotely into hot cells and other high contamination/high radiation areas and eliminates exposures associated with entries into these areas of concern.

To prevent re-suspension issues during work activities in the treated areas it is recommended that additional that additional coats be applied.

In addition, inaccessible internal surfaces of tanks, ventilation ducts, pipes, and equipment are effectively stabilized by aerosolizing this low viscosity fixative.

The result of this process is a hard, penetrative coating that ensures total stabilization of contaminated surfaces, including dusty, untreated surfaces often found at projects preparing contaminated facilities for demolition.
Project Profiles
ORNL Project Profile

More Information